A few months ago I posted about
finding the Ever After shoes
and how I wanted to wear them for the wedding. Just in case you don't remember them, here they are again.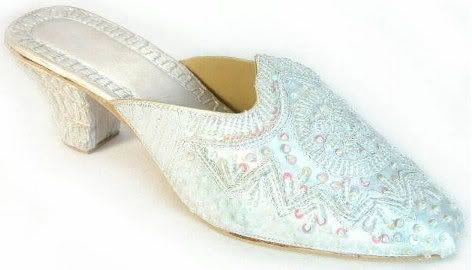 Beautiful, huh? Well, I'm not wearing them for the wedding anymore! Now, don't get me wrong, those shoes are absolutely gorgeous and I still love them. However, they didn't quite fit so I had to come up with a back up plan.
A few weeks back, my MOH and I went shopping for shoes and jewelry for the wedding. I also wanted to find undergarments for my dress, since I have an alterations appointment coming up, but more on that later.
We both had a rough idea of what kind of shoe we wanted. She was looking for cute silver heels while I decided I wanted to walk down the aisle in fuchsia shoes. Yes, you read that right. I went from white Cinderella shoes to fuchsia heels. Don't ask, my mind can be quite a mess sometimes! Anyways, my MOH didn't have to look long for her shoes. She found the perfect pair at the second store we visited.
I didn't have quite the same luck. There was not a single pair of fuchsia shoes in the entire mall. Several shades of light pink but no fuchsia. I was very disappointed but my MOH saved the day! She suggested a certain website called
Zappos
[seriously, hit it up if you haven't done so already] that had hundreds of shoes and free shipping.
I was a bit skeptical at first, but after browsing their selection I found the perfect pair of shoes. I just had to have them! I have never in my entire life spent so much money on a pair of shoes before [then again, most of my shoes are under $20] but these are so worth it. I mean, just look how pretty!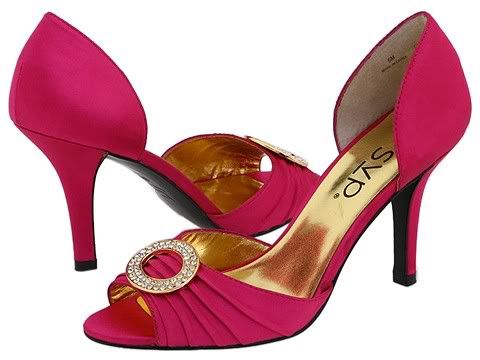 I was a little afraid that they might not go with the dress, but when I tried them on with the dress it looked absolutely fabulous! It's the perfect pop of color! I love these shoes so much I want to wear them already!
Did you change your mind about your wedding shoes? Did you choose white or a pop of color?