I remember a wedding-related conversation I had a long time ago with my MOH. I was just beginning to explore all the details that go into wedding planning and I said, "I don't want one of those bride-and-groom cake topper figurines." As any good MOH would do, she agreed with me, "Absolutely, that is so dated."
Of course, back then, I thought that cake toppers only looked like this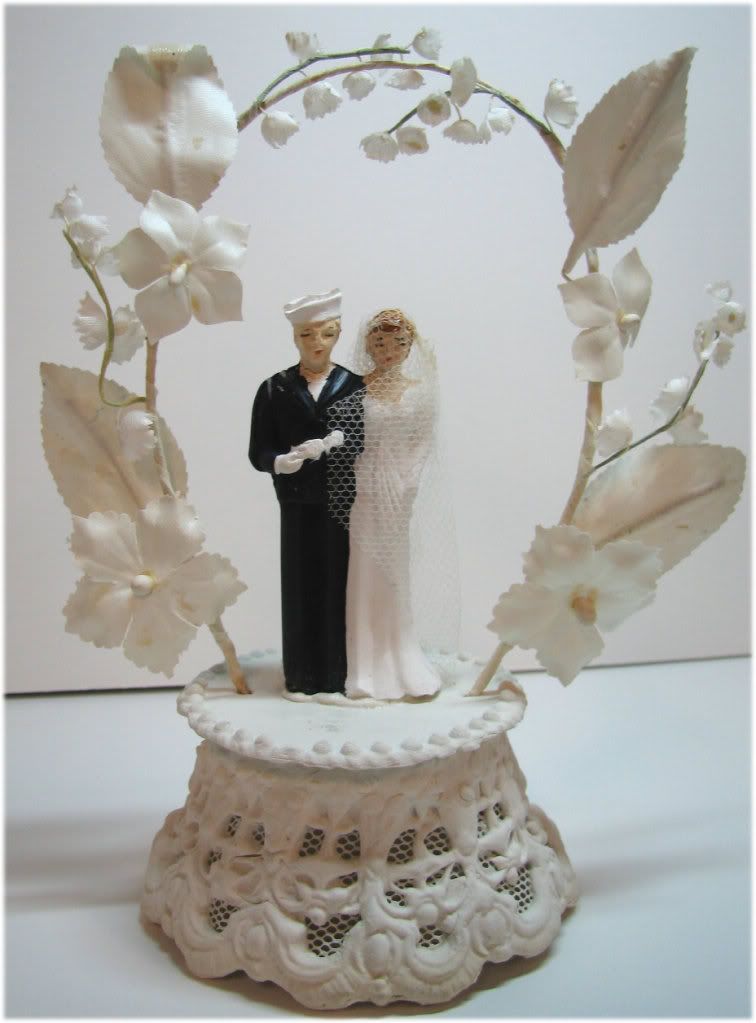 It's amazing all the things that I've learned about weddings since then, including
cake toppers
. I'm still not 100% into having the bride and groom on top of the cake, even if it's with something as cute as this
I'm sure you must be rolling your eyes at me, asking, "Nina, then, what the heck
do you
want??"
I want a crown fit for
a queen
a cake. Since I saw that picture, I've been obsessed with the idea of having a crown for a cake topper. Me being, well, me, went into research mode to find that exact crown that you see above. I did
find the crown
, along with its price. A whooping $625 - that's more than what my wedding dress cost!
I haven't given up on having a crown cake topper, even if the Mister looks at me like I'm crazy. He isn't completely on board with the idea, in fact, he didn't really care for the idea at all. I've been continuing my hunt for cute crown toppers, but haven't found too many. I just found these two yesterday.
I showed them to the Mister, to see if I could warm him up to the idea a bit more, and he seemed to like these better than the first one. In particular, he really liked the third one.
During my research, I was also looking for tutorials on how to make a wire crown. Yes, I am indeed crazy, I have been considering making the crown myself. Mind you, I have no experience making jewelry and using wire, let alone constructing a crown! I haven't completely given up on the idea, and I got some wire at home to play around with.
I visited my local Hobby Lobby yesterday (yay for having one a mere 10 minutes away from home
and
on the way home from work!) and as luck would have it, I found that third crown in the bridal section of the store. It was the last one left and the price was $24.99, much more reasonable than the $600+ price tag. I didn't buy it because it looked a bit banged up, and the Mister hasn't confirmed he wants to go with the crown topper. I'm also still considering giving DIY a try, even if it's just to see if I can (or can't) do it.
What do you guys think? Should I just go ahead and buy this topper, if I find it in better conditions at another Hobby Lobby store? Should I still attempt to DIY, just to appease my 'what if's'?