I really, really have to get moving on wedding planning and executing! It's so difficult when you have a million ideas going round in your head and the only items accomplished off the big list are:
1. Get ring on finger
2. Get church for ceremony
3. Get venue for reception
4. Semi-finalized guest list
5. Wedding colors
Yep, that's my big list of accomplishments with only eight months to go. So, what's next on my list you ask? I'll let you take a peek.
1.
Hire entertainment (music)
DIY Save the Dates
2.
Hire photographer
Hire entertainment (music)
3.
Buy wedding dress
Hire photographer
4.
DIY Save the Dates
Buy wedding dress
You read right, the very top of my list right now is making the STDs, which would be my very first wedding DIY project! I wanted this to be the top of my list (even if it doesn't make sense to other people) just because working on this is the first step to making this wedding personal, ours.
There are so many great and beautiful ideas for STDs out there, that I couldn't quite decide what I wanted to do. The one idea that stuck out the most was to do magnets. It seemed easy. But then I started changing my mind…
Aren't these so beautiful? So creative? I could already feel my magnet idea fading away in the distance…
And then I found these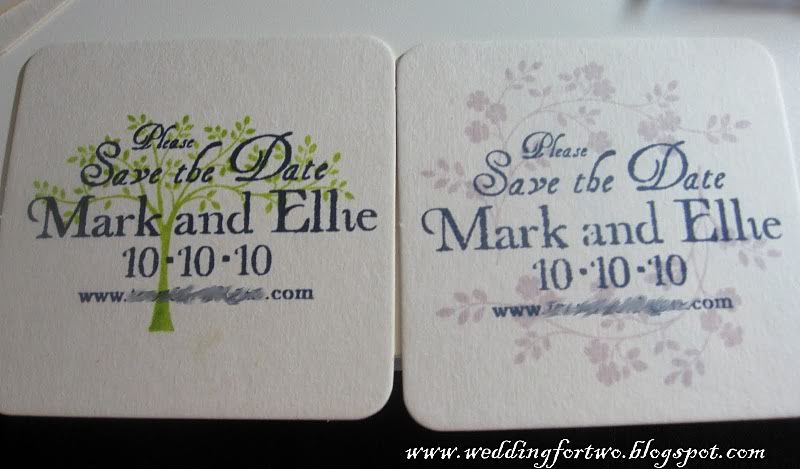 That was it; the magnets were out the window, gone!
I am hoping to begin making the coasters on Sunday, or maybe I'll be able sneak a couple of trials in tomorrow Saturday. I'll let you know how it goes!
What is/was your first wedding DIY project? Did you move it to the top of your To-Do list?