For finding my dress! Okay, I few days ago
I shared my very odd dress-related dream
. After writing about it, I felt better and called David's Bridal to schedule an appointment. I asked for a Saturday morning and they had a 10:30am for this Saturday, so I took it.I told my girls, and they got all excited about it! We're even going to make a day of it. While me and the girls go dress shopping, the mister and my BM's boyfriend will hang-out and do something
manly
(my guess? Video games). Afterward, we'll meet back home for awesome food and a movie marathon.
I'm still somewhat nervous but just today I read
this
post by Miss Dachshund at Weddingbee. I can understand her as I feel the way she does. I've always had insecurities about the way I look. I know it'll take time, but I know that, eventually, I'll be comfortable in my own skin. I have the wonderful support of the mister and my girls.
In preparation of Saturday, I've looked at every dress in the David's Bridal website and selected my favorites. I have many, and I still have to narrow the list down for Saturday. I think I'd like to determine my Top 10 and, hopefully, try on my Top 5. I'm not sure how these appointments are like, so I'd rather be prepared!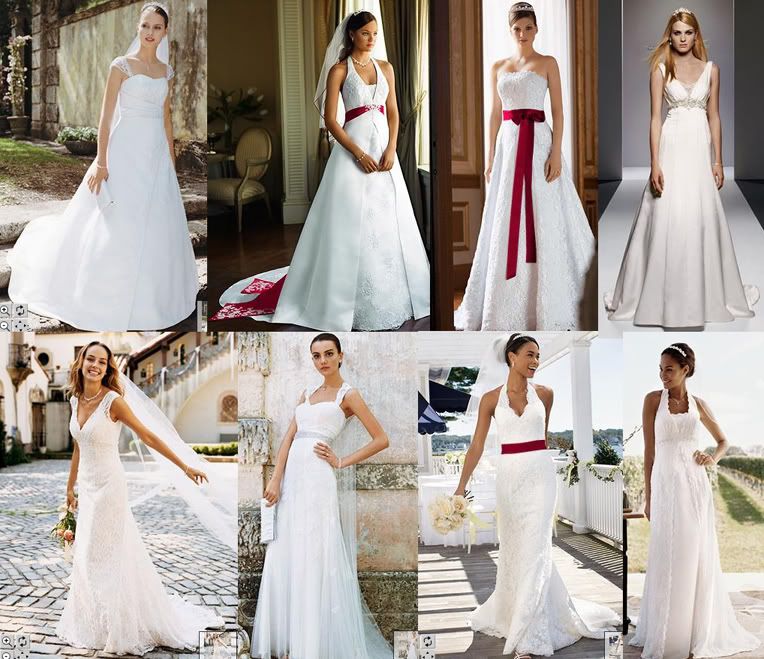 These are some of my favorite dresses that I saw at their website. Who knows? Maybe one of these is the one!
How many favorite dresses did you bring in to your dress appointment? Did you find your dream dress on your first try?