WARNING:
The following post is not appropriate for the Mister's eyes. Mister, if you do not want to see my wedding dress, LEAVE NOW!
As you
may
know
, I was a complete procrastinator when it came to searching for a wedding dress. I knew I had to start my search soon since I had (at the time) seven months to go before the wedding. Still, in complete putting-it-off fashion, I didn't set foot in a bridal store until the end of February.
My girls and I went to David's Bridal to begin my dress search. I armed myself with pictures of the dresses I loved from their website (
sneak peek
) to give to my bridal consultant. The appointment was supposed to last 90 minutes but I do believe we took a bit longer than that.
Before I start with the dresses, I have to say that I had a wonderful experience. I was very apprehensive about this particular part of the wedding planning, and I am so glad I finally pushed through and did it. I had a wonderful bridal consultant, whom I'll call J, that helped me a lot, even though she was working with another bride at the same time. She looked for different veils and head pieces to match every dress that I tried on and, before my MOH could ask for anything, she'd already have it! So J, thank you very much for all your help and attention!
Okay, on with the goods!
Dress #1 - Vintage Romance*
This was the first dress that I tried out. We're not sure if it was because this was the very first dress I tried on, but both my MOH and myself were a little misty-eyed. It was light, simple, and had a vintage look to it. I absolutely loved the lace and the beaded ribbon at the waist. I loved its lack of poofiness, as I do not want to change for the reception. The one thing that I was apprehensive about was its open back. I love it for the reception, but I'm more of a conservative when it comes to dressing for church (thus my lack of desire for a strapless dress).
Dress #2 - Renaissance Affair
I. Loved. This. Dress. This dress was absolutely gorgeous. This dress was my favorite one from their site and wanted to try it on. I love the halter top, the beading, and how it opens in an inverted V. It had that renaissance feel to it (those who know me know that I'm a ren-faire girl!). The girls and I were pretty sure this one was
the one
, but it was not meant to be. The dress was discontinued.
Dress #3 - Royal Engagement
With a slightly-broken heart, we moved on to dress #3. I originally did not want any strapless dresses, but this one changed my mind. It had lace all over it, giving it a hint of vintage, and the dress was very flattering. If I wanted, I could also add cap-sleeves to it (and it would no longer be considered strapless). I also loved how the lace was trimmed at the edge of the skirt and train. The dress did not have a full-blown poof, which I completely want to stay away from. However, it was very heavy. I could feel the dress pull me down every time my MOH would rearrange the train. I couldn't imagine going through the entire reception wearing this dress.
Dress #4 - Modern Lace
This was the last dress I tried on. It was also strapless but with much less poofiness than the third one. It had lace and beautiful beading on the top, but I just wasn't feeling it. It was pretty, but it didn't wow me like the first three had done.
Since my Renaissance Affair dress (aka Dress #2) was, unfortunately, out of the running, I was torn between my Vintage Romance (Dress #1) and a Royal Engagement (Dress #3). I felt absolutely beautiful in both dresses, and I saw myself walking down the aisle in both. Price wasn't an issue, since both were under my dress budget. And, although both of them had trains (something I definitely don't want), both can be fixed up to be without the train.
So, which one did I choose? You'll have to ask my Fairy Wedding Dress Godmother for that one, or wait for the big reveal ;-)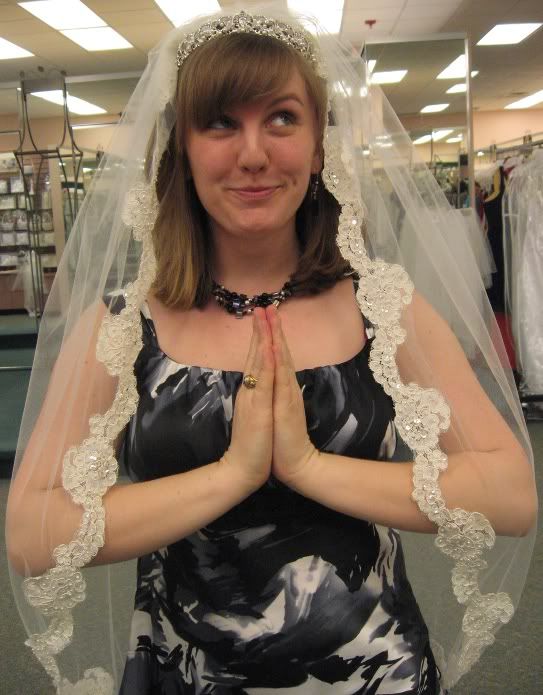 My Fairy Wedding Dress Godmother
(aka my wonderful BM)
How was your wedding dress shopping experience? Did you put it off only to discover how much fun it really was?

*Note: All the pictures in the post are personal pictures, and were taken by my girls. The dresses' names are completely made up by me and do not refer to their official style numbers provided by David's Bridal.